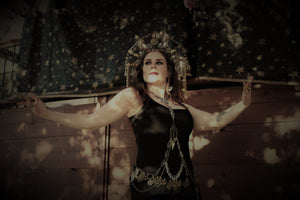 Jewelry and home décor for the vintage witch
A collection of old world meets modern, created and collected for your home and body.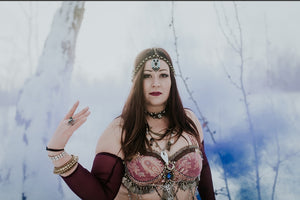 Meet the artist
Greetings! My name is Lesley and I currently live in Alberta, Canada. I am Canadian through and through and was born and raised in Winnipeg. I create all the handmade items and thrift all vintage pieces. I have a passion for art and have studied fine arts in university. I have an inexplicable connection to antique items. I am inviting the spirit of its past into my life. I collect hobbies as well as vintage/antique items so there will certainly be an assortment of items available. I am a wife and a mother of a 4 year old girl. I have 2 husky mix pooches and senior cat. I studied belly dance for 10 years prior to this 4 year hiatus. Ahhh how being a mother can put parts of your life on the back burner. I work a full time muggle job so please be patient with me. The jewelry is made from antique "junk" and broken jewelry that I repurpose with a mix of some new components. I recycle packaging materials so the outer box may be less attractive but I make the effort to ensure all that is inside is a magical experience. Enjoy!